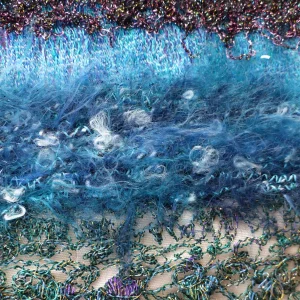 Christine Jenner Artist:
My interest in textiles started in my school days while learning dressmaking. At the present time I am exploring not only fabrics and stitching but also the tools and machines of the trade, often looking from a historical perspective. Over the years I have happily explored many crafts which involve the use of fabrics and threads in varying ways.
My textiles are inspired by the natural world, other cultures and my travels. I also have a keen interest in using historical subjects.
Many of my fabrics are dyed and coloured by myself. My pieces include embroidery and quilting techniques interlaced with manipulated fabrics and mixed media techniques. Thin metals and woven metal fabrics fascinate me and I like to introduce them into my work if the design allows. I work predominantly with natural fabrics but I also like to work with man-made sheers and felts which react well to alteration by heat, producing interesting textures.